Betul. Aku memang tak suka tengok tv. Bukan maksudnya tak tengok langsung, tapi jaranggggg laaaa.. Kalo aku balik umah, mesti duduk senyap dalam bilik je. Kadang-kadang aku terpikir gak kan kenapa la aku tak suka tengok tv. Pikir punya pikir punya pikir.. aku rase aku dah discover sebab-sebabnya. Check it out!!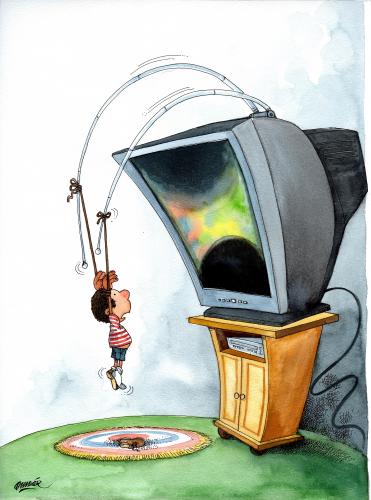 Kalau tengok tv

tak boleh nak pause

. Time tengah tengok citer hantu kt tv, time tu laaa nak pegi toiletttt...kuar je dari toilet, hantu dah takda..almaklumlahhhh kan kuar kejap2 je dlm tv tu...

Tak boleh nak pilih cerita

apa yang nak tengok. Kalau cerita tu tak suka nak tengok, terpaksa layankan jugakkkkkk.

Tak boleh nak rewind.

Kalau tertido time tengok tv tu.. abes la terlepassss cerita tu nk rewind xbolehhh.. tengok kt laptop boleh la gak nk rewind ke ape ke kan.
Aku lagi

suka baca komik

rupenye. Aku discover ni dari aku form 2.
Aku lagi

suke dengar lagu

dari tengok cerita. Ni aku discover mase aku darjah 6. (erkk?)
Tv

ade berita

. (so?)
Aku suke tengok cd/dvd/cerita

sorang2

.. tv kena tgok ramai2. eh tak tau la npe suke tngok sorang2. Maybe sebab kalo citer sedeh, leh meraung teruss..xyh nak cover2 tahan nages depan member. (haha)
Waktu kecik aku slalu berebut remote control dengan si poyu. Disebabkan aku bongsu, maka aku selalu

tertewassss

.. sejak dr saat itu, aku menjadi fobia untuk menyentuh remote control. Aku telah mengalahhh. cisss.
Kat tv

tak boleh nak pasang headphone

. :D
And the last reason adalah...

SEBAB AKU TAK RETI NAK BUKAK TV !!

. Memang reason yang giler. Tapi sejak tv kt umah bertukar tahun lepas, aku xsempat lg nk belajar cmne nk bukak tv tu.. sangat maluuuuu. (hikhik)
Dan aku selalu diketawakan sebab tak reti bukak tv. (-_-) ciss sungguh!
p/s: Nak balik Gerik lepas ni.. (mesti tak tengok tv, perap dalam bilik je) :P